It's time to plot an autumn escape for you and the family — and we've got a whole load of exciting adventures for you. There are spooky classics coming back to the big screen for Halloween, lots of animated favourites, familiar faces going on fresh adventures and some brand new friends to make, including a singing crocodile. Your little ones will love getting lost in a big screen story — and there's loads for you to enjoy too.
What's New?
Lyle, Lyle, Crocodile
What's this then?
A family moves into a new New York pad and finds an unexpected squatter: a singing crocodile. Shawn Mendes gives voice to the friendly reptile in this adaption of a much loved picture book.
Why they'll love it:
What kid wouldn't want to hang out with a friendly, singing crocodile who loves bubble baths (and caviar)?
Why you'll love it:
A heartwarming story and a great cast — including Constance Wu, and Javier Bardem as an eccentric showman. Plus, a catchy soundtrack, with songs by the people behind the La La Land soundtrack.
Mia and Me: The Hero of Centopia
What's this then?
An animated adventure based on a hugely popular German children's TV series about a girl with magical powers. Along with her friends, she travels to faraway islands on an exciting quest to save the world from evil.
Why they'll love it:
Super colourful characters, talking unicorns and magical kingdoms.
Why you'll love it:
A chance to sit back and put your feet up while they enjoy themselves.
Room on the Broom & The Highway Rat
What's this then?
Animated adaptations of two of Julia Donaldson's much-loved children's books: about a witch who invites lots of animals to travel on her broom, and a greedy rat who gets his comeuppance.
Why they'll love it:
If they loved The Gruffalo, this is a chance for them to catch up with some lesser known — but just as captivating — Julia Donaldson stories.
Why you'll love it:
There's a seriously starry voice cast, including Gillian Anderson, Rob Brydon, David Tennant and David Walliams. And Donaldson's tales are always super heartwarming with a great message.
Back on The Big Screen
Harry Potter And The Chamber Of Secrets - 20th Anniversary
What's this then?
The second instalment in the Harry Potter series flies back onto the big screen, 20 years after its original release.
Why they'll love it:
A rare chance to see their favourite characters on the big screen. Plus flying cars, a Whomping Willow and a wrinkly little elf called Dobby.
Why you'll love it:
Because you love Hogwarts as much as they do, of course.
Hocus Pocus
What's this then?
A spooky season family favourite comes back to the big screen. A teenager accidentally resurrects three witches (oops) — played by Sarah Jessica Parker, Bette Midler and Kathy Najimy — and a night of chaos and comedy follows.
Why they'll love it:
More funny than frightening, this is a great one to get the whole family in the Halloween mood without being *too* scary. Plus, there's a talking cat – and who doesn't love one of those?
Why you'll love it:
Nearly thirty years since its release, Hocus Pocus is a proper cult classic – and if you've never seen it on the big screen, now is your chance.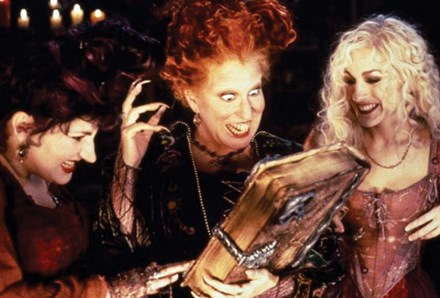 ParaNorman - 10th Anniversary
What's this then?
Norman is just a regular kid…who can see and speak to ghosts. In this animated fantasy-comedy he must use his special powers to lift a witch's curse on his hometown.
Why they'll love it:
This is genuinely pretty spooky at times, which older kids will love – but there's lots of laughs, too.
Why you'll love it:
It's one of those animations that's as much for adults as it is for kids – with dark humour, and loads of horror film references. It was also nominated for an Oscar for Best Animated Film.